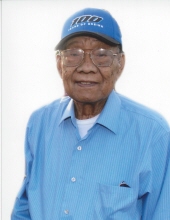 Obituary for Alfredo G Delos Santos
Alfredo Generao Delos Santos, Sr. was born in San Fabian, Pangasinan, Philippines on March 14, 1935. He spent most of his career life working overseas as a proud Overseas Filipino Worker (OFW) to support his family and send his children to college. He was a profound man, certified mechanic and skillful handyman. He worked in Saigon, Vietnam from 1965-1975; Riyadh and Khamis, Saudi Arabia (1977-1982); and concluded his career working for Sirte Oil Company in Tripoli and Brega, Libya from 1985-2003. He was preceded in death by his parents Fabian (1940) and Perfecta (July 1994), step-dad Abelardo Quilon (Oct. 1994), and his brother Remigio Sr. Delos Santos (May 2006).
Survived by his wife of 56 years, Julieta Maravilla Delos Santos and his children, Alfredo M. Delos Santos, Jr., Amalia Delos Santos Bactol, and Wilfred M. Delos Santos. Along with more family, relatives, and friends.
His son Alfredo Jr. and wife Ruby reside in Qatar. His grandsons live in Melbourne, Australia. Aefred R. Delos Santos (married to Shemaiia Mae)-- great-grandchildren Nathaniel, and twins Matthaeia Jaymie and Andrea Avee. And other grandson Dahlen Delos Santos. Daughter Amalia and her husband Diosdidit Jr. of Maple Valley, WA. His grandchildren Marlon A. Bactol (married to Anne)-- great-granddaughters Giselle and Camryn. Grandson Marion Julior Bactol and granddaughters, Meredith Junne and Andrea Aimee Bactol. Son Wilfred married to Amy and his grandson Karl (with Maria) great-granddaughter Kaira Marie and granddaughter Madeline Delos Santos who all reside in the Philippines.
Alfredo Sr. migrated to the U.S in March 2003. He had a generous heart and warm presence that will be missed by many. He cherished spending time with his family, enjoyed his grandchildren's graduations, was fond of Muckleshoot Casino, mahjong, and family parties. And he loved to eat-- especially the buffet. He also was a football and basketball fan, he liked watching sports, action movies and The Filipino Channel.
Previous Events
Vigil/Rosary
Holy Family Catholic Church
505 17th St SE.
Auburn, WA 98002-6821
Funeral Service
Holy Family Catholic Church
505 17th St SE.
Auburn, WA 98002-6821