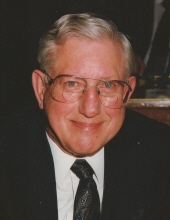 Obituary for Leonard A Moehrle
Leonard Albert Moehrle, DDS
Our beloved father and grandfather, Leonard Moehrle, "Bud", passed away on November 26, at the age of 96. He was born in So St Paul, Minnesota, on November 7, 1922. He was a Lieutenant in the Navy in WWII. In 1947, he married his sweetheart, Benetta Anklan. He graduated from the University of of Minnesota with a Degree in Dentistry. In 1953, he moved to Seattle where he practiced dentistry in South Park for 40 years. They lived in Des Moines from 1958 to about 1998, when they moved to Chehalis. In 2012, they moved to Village Green in Federal Way. Bud loved the outdoors and gardening and animals. He loved travel, camping, hunting, fishing, skiing, boating, and cooking. We all have wonderful memories of these activities with our parents. He was active in Kiwanis, Boy Scouts as a leader, Trout Unlimited, and the Mr. and Mrs. Dance Club in Des Moines. He is preceded in death by his wife of almost 70 years, Benetta, and son Patrick Moehrle. He is survived by daughters, Mary Jane Latimer (Michael) and Elizabeth Clark (Joseph), sons Michael Moehrle, Christopher Moehrle (Meradene), and David Moehrle (Beverly), twelve grandchildren and ten great grandchildren. He was a kind, patient man and was much loved by his family, friends and his patients.
A rosary service will be on Friday, December 14th at 6:00 pm at St Vincent de Paul Catholic Church in Federal Way.
A funeral Mass will be held Saturday, December 15th at St Vincent de Paul Catholic Church in Federal Way at 11:00 am.
Memorials could be made in Bud's name to Catholic Community Services
Please sign the online guest book.
Previous Events
Vigil/Rosary
St. Vincent de Paul Catholic Church
30525 8TH AVE S
Federal Way, WA 98003
Funeral Service
St. Vincent de Paul Catholic Church
30525 8TH AVE S
Federal Way, WA 98003