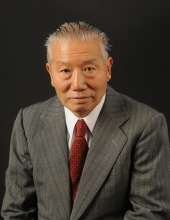 Obituary for Myung Bo Um
A Brief Look Back at the Life of Myung Bo Um.
Myung Bo was born in Young Chun Village, North Korea Feb 29th, 1940.
Born to his parents Sung Zoon Um ( father) and Yun Eui Tak ( mother).When he was about 5 years old his father died, right after World War II. His father Um Soong June was a schoolmaster or in these days referred to as a School Principle. He was one of only four Korean school masters during the occupation of Korea by Japan. Myung Bo's father was very educated and well respected by both Koreans and Japanese. Myung Bo's father had a lifelong dream of one day becoming president of one of the Universities in Seoul at the end of World War II. His ultimate dream however was to send all of his children to College in the United States. Sadly, this never happened as he passed away in May of 1945.
Right after World War II was over, North Korea began embracing Communism. Myung Bo and the UM family decided to flee to the South where it would be a safer place to live. Unfortunately, Myung Bo's father had passed away prior to the families Exodus from the north. Additionally, due to the fact that his father had been a school principal the family faced possible scrutiny or worse from the Communists. The Communist Chinese didn't take to kindly to any Koreans that were sympathetic to the Japanese. After all, Japan was also occupying much of China prior to World War II.
Myung Bo has 5 other siblings. Three sisters and 3 brothers. Myung Bo is the 4th youngest.
In preparation for the dangerous journey south, Myung Bo's mother secretly hired a guide to assist in their escape to freedom. At one point during their attempted Exodus they were caught and had to spend a night in jail. The police interrogated the family in an effort to find out where they were going. The interrogator suspected they were heading south. When the police began to question young Myung Bo, they stated "your father went south already, is this correct!" Myung Bo was only seven or eight years old at the time and the interrogator thought he would be an easy target.
Myung Bo answered "no my father is dead!" The interrogator didn't believe him and asked again and Myung Bo responded with the same answer. Finally on the third attempt to get the truth, Myung Bo yelled, "I told you, my father is DEAD!" The interrogator took the young child at his word and finally gave up his questioning and let the family go. Myung Bo was a hero at just 7 years of age.
As the family continued south they came upon a geographical obstacle they would have to navigate. Their final test to acquire freedom was in front of them. They had to cross the HaeJoo River. Luckily, the section of the river where the family was, is affected by ocean tides, as it was close to the west coast of Korea. Consequently, they waited for Low Tide. Crossing could only be done at night since there were guards posted along the north side of the river. The first night attempt to cross the river was not a good. The night was clear, with a full moon. It would have been easy for the guards to see them. The second night was cloudy and the guards for some reason had moved to another spot. (Fate was on the family's side.) Fortunately for the family the tide was out and they were able to basically wade across the river being careful not to step into any deep holes. The
water was shallow from an adult standpoint, but waist deep for Myung Bo. While crossing, they heard gun shots a good distance down river from where they were crossing. Someone had apparently been spotted and was being targeted by the guards. The fate of those poor souls remains unknown.
About a year after finding safety in the South, the family counted their blessings and thanked God for leading them to safety. They embraced their Catholic faith, which had been strengthened due to their deliverance. In 1949 the whole family was baptized into the Catholic religion. All was good. Unfortunately, this was not the case; their safety was again in jeopardy about a year later at the outbreak of the Korean War. Once again, they had to flee and head further south. Myung Bo's older brother fortunately found a job working at the Korean Customs Office in Marsan City. Choong Bo the oldest brother had become the provider for the UM family due to the death of his father about 5 years earlier. Myung Bo was about 11 or 12 years old at this time.
While living in Marsan City during the war, the family did better than most refugees.
Choong bo was ultimately required to transfer to the Pusan Custom's Office. He was receiving good compensation for his duties. While waiting to move to Pusan to be with his big brother, Myung Bo at his young age was able to earn a little money working for the U.S. Navy. Amazingly, Myung Bo was able to work as a house boy for a couple of months.
The time was about 1951.
After the war, Choong Bo being the default Patriarch of the family was a great provider for them. Choong Bo put all of his siblings through school. (Elementary through College.) In those days, even elementary school was not free.
During High School and College Myung Bo felt the need to provide a little help to his brother financially. He didn't need to work, but he loved doing so and needed a little money for himself, so he could buy incidentals as needed. (Girls?) He had too much pride to ask his older brother for more money to acquire personal items. Therefore, he acquired a job going door to door selling books. He loved to earn money.
Myung Bo did very well in College. He was always the TOP student scholastically all through school. He attended the infamous Korea University in Seoul and in his senior year was elected class president. During his senior year the College sent him on an all expenses paid trip to attend an all Asia College Conference in the Philippines. Myung Bo was the only college representative from Korea to attend. Quite an honor.
During his College education, Myung Bo was enrolled as an ROTC student. After graduation, he became a Second Lieutenant and served in the Republic of Korea Army.
After being honorably discharged from the Army he obtained a job working for Dong-Ah Pharmaceutical (Dong-Ah Jaeyak) company in South Korea. He had his dream good job.
However, he came to the U.S. because other higher ambitions. He wanted to return to Korea after a few years and run for Congress. He ultimately decided to stay, as his family was happy and doing well. He did however hold office as the Seattle/Tacoma Korean Society President during the 1970's. So, in a way he did end up representing his Korean bretheren.
Myung Bo worked at the Seattle ship yards as a welder for a couple years where he learned a good trade. He couldn't see himself welding as a permanent profession however. Fortunately, he was able to acquire a better and less stressful job working for Western Electric. (The supply arm of the Bell Telephone System at that time.) He worked there during the late 70's and early to mid 80's. Western Electric was downsizing after the breakup of the Bell System in 1984 thus Myung Bo left the company and went to work for Boeing. He did well at Boeing. He was able to work overtime everyday, including weekends. Boeing treated him well. Unfortunately, the long days and stress eventually took its toll. In or around 2011 Myung Bo suffered a minor stroke. As he told his oldest Son one day shortly after the event, "I feel there is something wrong with me." It is felt, he may have subsequently experienced additional silent strokes and began a down hill slide. Eventually, dementia struck, then the dreaded Alzheimers, which eventually took him from us. His long goodbye spanned a period of about 7 years.
Myung Bo is now gone, but he will never be forgotten. He had great respect for his seniors, and was loved by all of the Um family. He had many friends, both in Korea and here in the U.S.

Myung Bo Um is survived by his ex-wife Keom Hyun Um and their 3 children, Soo-Hui Um ( 1st born and oldest son), Soo-Jeong Um Kim ( 2nd born and only daughter) and her family including 4 grandchildren, and Gene Oh Um ( 3rd born and 2nd son) and his wife.

Myung Bo Um was the 4th child amongst his siblings, 6 of them total.
He is survived by the oldest brother Choong Bo, 2nd oldest Brother Sang Bo, his oldest sister, Kung Hee, and 2 younger sisters, Kung Ja and Kyung Suk.
Previous Events
Visitation
Yahn and Son Funeral Home
55 West Valley Highway S.
Auburn, WA 98001
Funeral Service
Yahn and Son Funeral Home
55 West Valley Highway S.
Auburn, WA 98001
A reception will be held at the funeral home immediately following the service