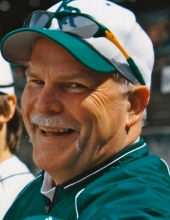 Obituary for Eric M Anderson
Eric Martin Anderson, devoted husband and father, trusted friend and colleague, extraordinary coach and educator, and the face and spirit of Kentridge High School, died peacefully in his sleep at his home on July 7th, 2018.
Eric was born August 16th, 1960, in Enumclaw, Washington, to Dr. Ken and Emae Anderson. He attended the public schools there, graduating from Enumclaw High School in 1978. Eric made many friends growing up in Enumclaw, several were close to him his entire life. Eric enjoyed a variety of sports and activities at EHS (both sanctioned and not), and to no one's surprise, was named Enumclaw's Homecoming King in 1977.
Eric received a Bachelor of Arts in Education from Pacific Lutheran University in 1982, and a Master of Arts in Education from the University of Washington in 1992. Again, at PLU and UW, lasting friendships too numerous to recount were formed and treasured. Eric was a proud supporter of both schools, and followed their athletic teams with fervor.
Eric began his teaching career at Tonasket High School in 1983. While at Tonasket, Eric taught Social Studies and coached sports. In 1985, Eric's professional journey led him to Meeker Junior High in the Kent School District. Here too, Eric taught Social Studies and coached. Eric then took his teaching/coaching talents to Kentridge High School in 1998, becoming the school's assistant principal for activities and athletics just two years later. He remained in that position, positively impacting thousands of student's lives, until his untimely death. Eric loved Kentridge and the entire Kentridge Community.
While teaching at Meeker Junior High, Eric met a gregarious and determined woman named Mary Albrecht, who just happened to have a daughter she wanted Eric to meet. After Eric and Margy Albrecht finally met, the attraction was instant and mutual; Mary, as usual, was right. Eric and Margy were married on July 18, 1987, with son Ian following in 1992 and daughter Maria in 1996. Family was the joy of Eric's life.
Eric is survived by his wife, Margy Anderson; children, Ian and Maria Anderson; mother, Emae Anderson; brothers, Tom (Cindi) and Ken Anderson; and sister, Mary (Dale) Holland. Eric will always be remembered for his effortless laugh, quick wit, catchy one liners, and fun loving attitude. Eric's legacy of steadfast love, respect and grace for all will live on in his family, his fellow educators, students and friends.
There will be a Memorial Service at the Kentridge High School Gym on Sunday, July 22nd, 2018 at 7:00 for the Kentridge Community, including all students, alumni, staff and families.
Eric's life will also be celebrated at a Funeral Mass on Monday, July 23rd, 2018 at 11:00. St. Stephen the Martyr Church 13055 SE 192nd St. Renton, WA 98058.
Memorials may be made to the Kentridge High School PTSA with Eric Anderson Memorial Scholarship written in the memo.
Previous Events
Memorial Service
Kentridge High School Gym
12430 SE 208th St.
Kent, WA 98031
Funeral Service
St. Stephen the Martyr Catholic Church
13055 S.E. 192nd Street
Renton, WA 98058