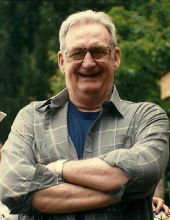 Obituary for Robert Charles Graf
We say goodbye to our father, grandfather, friend, and skilled raconteur, Bob Graf.
Bob was one of the nation's foremost jazz discographers and music collectors.
Big Bob died just as he wanted - at home- watching a baseball game on tv, with a couple of his kids around.
He now joins his beloved pixie, Sylvia (1920-1994). I think I hear Billie Holiday's "Sentimental and Melancholy" playing.
Bob loved to fish. Oh, the fishing stories he could tell of his salmon catches here and in Alaska, and his marlin in Mexico.
He was a former northwest basketball star and after his playing time he was an enthusiastic fan of local basketball and the Mariners.
Bob played AAU ball for Alpine Dairy and professionally for the Tacoma Mountaineers of the Pacific Coast Pro Basketball League where he was one of the all time scoring leaders. Graf was proud to have been one of the founding members of the "Basketball Old Timers" organization. Check out their website for some history of Bob's basketball career.
After sports, music was his other passion. At one time his collection of traditional jazz 78s was over 50,000. The records were in his "record room," the basement, on shelves in the front room and in every closet in the house. He was a sought after authority and corresponded with other collectors and discographers from all over the world.
His knowledge and willingness to share this love led to many local musicians calling him mentor and many long lasting friendships forming. He was a strong supporter of the Puget Sound Traditional Jazz Society. He was so proud of the talented musicians that Ray Skjelbred, Mike Duffy, Bob Jackson and Bob McAllister became. He loved when they could jam at the house, and loved traveling to festivals and club outings to hear them and others play.
He has left behind a large family that includes Bob & Janet Graf, Chris & Steve Roundtree, Charlie Graf, Mary & Ken Johnson, Jo Ann Dahle, Leslie & Justin and Kaytelin Breckel, Carrie & Steve and Brady McIlvenna, Valerie Newell and JC Newell, Chuck Graf and Jacob Graf, Jennifer Graf, Sara & Jesse Arthur, Shaida & Ira Haberlach, Alexis & Blaine and Goerdon, Sami & Logan Klingler, and Nic & Kayla and Emily & Hunter Dahle. He considered John Ochs & Pamela Bradburn, Carol Rippey and Bob West family too. Thanks to Elsa, Leroy, Mary Jane and Rod for being close friends till the last.
At his request there will be no public service.
His family asks that whenever you hear a particularly great tune (his personal favorite was Papa Dip) you think of him.