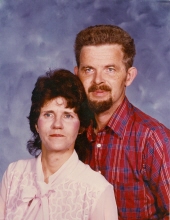 Obituary for Bryce JIM Clemans
To honor a man that was anything but ordinary, an ordinary obituary simply will not suffice.
Bryce James Clemans, born July 5th 1943, was a man with a whimsical sense of humor and more hobbies than he could hope to keep up with. You name it, he did it. Everything from fishing to crocheting, with but one exception: sports. Unfortunately athleticism was a gene he was left without. However, he did enjoy "professional" wrestling, if one chooses to call that a sport. He was an avid writer, science fiction fanatic, and a musician. Of all his hobbies, painting seemed to be his favorite and one that he continued until his health no longer enabled him to do so. His preferred style was oil paints and it led his children to affectionately call Bob Ross their Uncle Robert. The resemblance was uncanny!
Beyond his hobbies, Bryce was also a loving husband to his wife of over 50 years, Julie, and father of 5 kids. He was the epitome of family man, spending all his free time with Julie and his children and of course their children. Ahhh yes, he loved his grandchildren! You'd be hard pressed to find a more proud grandfather than Bryce; his inner child would shine in their presence as he would gleefully play with them at every opportunity.
After his wife passed, December 17th, 2017, he carried on as best he could. He continued to bake bread, crochet crazy hats, watch sci fi movies, and still fought with the rubix cube to no avail. On mothers' day, May 12th, 2019 he reunited with his love forever more. Left behind are 5 children: Cindy Torsey, Carol Clemans, Renee Schnarr, Gina Lilly, and Dennis Clemans as well as 21 grandchildren and 9 great grandchildren.
Services will be held at Yahn and Son Funeral Home in Auburn, WA on May 24th at 1:00 PM with reception to follow.
Previous Events
Memorial Service
Yahn and Son Funeral Home
55 West Valley Highway S.
Auburn, WA 98001